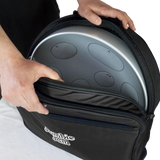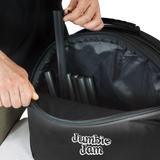 Jumbie Jam gig bag
SKU: 77JJ-600
20mm padding with two main compartments to separate the pan from the stand
High tensile double stitching, accessory pocket on front
Adjustable padded rucksack straps and strong carry handle
Jumbie Jam gig bag suitable for both table top and adjustable stand models
Tom & Will YKK zip openings
No-rip hard wearing polyester exterior, soft no-scratch interior linings
Introducing the Jumbie Jam gig bag
The Tom & Will 77JJ series Jumbie Jam bags have been designed with the player and student in mind at all stages. The bags are as small and lightweight as possible whilst offering good protection in all the right places.
This Jumbie Jam bag offers easy transportation and protection for both table top and adjustable stand Jumbie Jams.
Additional features
Outside the strong canvas water resistant exterior, padded adjustable rucksack straps and main carry handle make transport a breeze and a handy accessory pocket on the front has plenty of space for daily necessities.
Inside 20mm of padded protection continues with two main compartments to store the pan and stand with ease as well as a mesh pocket to keep small parts neat and tidy all finished with soft no scratch Tom & Will branded lining.
Extra touches include a name card holder, hook and loop strap holder to fix the rucksack straps to the back of the bag if not required and Jumbie Jam logo on the front.
Internal dimensions (Diameter x Depth)
16" x 2"
External dimensions (Diameter x Depth)
17" x 5"
Weight
1.04kg
2.29lb