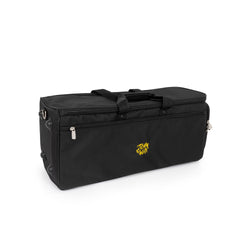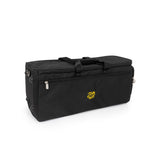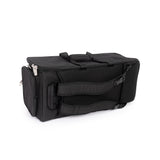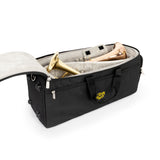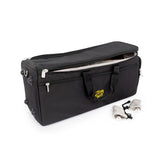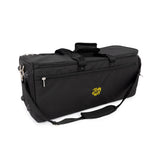 Combi-cornet/flugel/trumpet gig bag
SKU: 26DTP-600
Plush interior lining provides soft cushioned protection for your instrument
Suitable for different combinations of trumpet, flugel horn, cornet and mutes
Three-sided heavy-duty zip opening
No-rip hard wearing polyester exterior, soft no-scratch interior linings
High tensile double stitching, RCS rivet cross stitch strap reinforcement
Plush interior lining provides soft cushioned protection for your instrument
Introducing the combi-cornet/flugel/trumpet gig bag
The Tom & Will 26DTP combination trumpet bag has been designed with the player and student in mind at all stages. Special features include handles, our top loading full access zip opening, heavy duty oversized Tom & Will zips throughout, high density padding, two external pockets plus a separate internal pouch for mouthpieces and most important of all our hideaway backpack and shoulder strap carrying system.
Suitable for a variety of instruments
The bag has been designed for use with different combinations of trumpet, cornet, flugel horn and/or mutes and other accessories. The malleable and thickly padded "S" shaped divider will adapt to your chosen combination and stop the instruments from knocking each other, and a removable padded topper holds everything in place when you open the case up.
Our 26 series brass bags feature the best quality high density padding that is available today and it's deep where it needs to be. The interior linings we have selected are so soft and luxurious that you'll want to get inside the case yourself!
Perfect for quick instrument changes in the pit
We exclusively use oversized, heavy duty die-cast Tom & Will double opening zips that are smooth running and guaranteed to last a lifetime. The top opening feature makes it really easy to put your instruments away and get them out again, which allows for quick instrument changes in the pit and a swift departure after the gig. The long base and short side each have four hard plastic feet to allow the case to be placed vertically or horizontally whilst in situ.
Long-lasting, reliable handles
Strength and reliability is crucial so on this bag all the straps and handles are riveted as well as cross stitched with high tensile threads - we want our handles to last a lifetime and have invested considerable time and effort to make sure that our handles and straps are not just comfortable, but long lasting as well.
Versatile hideaway backpack system
The hideaway backpack and shoulder strap carrying system is designed to fit all. You can hold it like a ruck sack on your back with easy tightening and loosening pull straps, wear it over one shoulder with the detachable shoulder strap with its moveable comfortable pad which is secured to the case with sturdy lanyard clips and chunky D-rings or carry it by hand using the dual handles which are secured together with a fabric cover. Straps and pulls can disappear out of sight by tucking them away inside our breathable back pad.
This Tom & Will bag will protect your chosen combination of instruments in style and comfort with a lot less weight.
Internal dimensions (L x W x D)
57.5cm x 23.5cm x 21cm
22.63" x 9.25" x 8.26"
External dimensions (L x W x D)
67cm x 30cm x 27.5cm
26.37" x 11.81" x 10.82"
Weight
2.58kg
5.69lb