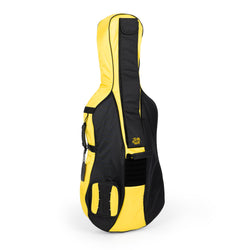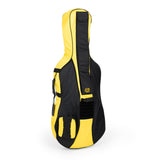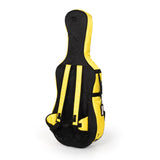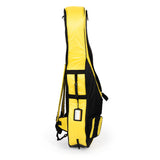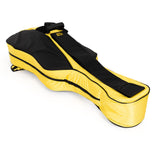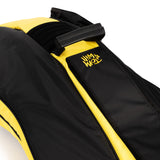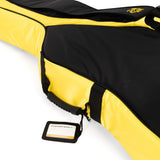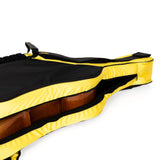 Active cello gig bag
SKU: 49VC44-735
YKK zips and fasteners
25mm padding, with additional ribbing to protect bridge
No-rip hard wearing polyester exterior, soft no-scratch interior linings
integrated, adjustable backpack straps with additional chest and waist straps
Introducing the Active cello gig bag
The Active series 49VC cello gig bags from Tom & Will bring a bold look, great protection and additional carrying and comfort options not found elsewhere in the Tom & Will range. These bags are intended to fit most standard sized cello models.
Our 49VC Active cello bag has a soft lined interior of short cut velboa with 25mm of padding. Additional ribbing is found around the bridge section of the instrument to keep this most delicate area protected. At the base of the case are external anti scuff rubber pads which serve to protect both the lower bout of your instrument and the fabric of the bag itself.
Adjustable backpack straps
As with our Classic model, these bags can be carried over one or both shoulders with the integrated adjustable backpack straps. For longer distances, or to help spread the weight of the instrument better you can also deploy the adjustable chest and waist straps. These extra straps were requested by longtime Tom & Will gig bag users Extreme Cello who first used these gig bags in the London Marathon 2012 and have taken them on many adventures since!
Additional features
The 49VC bag has a number of pockets both on the front and back of the case. On the front you will find a long pocket down the centre of the body for your bow, along with a smaller pocket further down the body which is great for pencils, rosin, spare strings and whatever else the cellist on the move might need! The larger zip-up pocket on the back provides sheet music storage, so there's no need to bring a separate bag of music.
YKK zips and pulls are used throughout this series of bags, reputed to be amongst the highest quality zippers on the market. The main zip starts by the peg box of the instrument and runs all the way down to the base of the instrument which makes it very easy to quickly get your instrument out or put it away. The zippers are designed with a gap at the base to allow the instrument's endpin to protrude.
Available in a range of sizes
Whether you're taking on extreme challenges or simply want a lightweight alternative to a hard shell case for the school run, Tom & Will are here to help with a range of sizes and styles available. The Active series is available in Full and ¾ sizes.
Internal dimensions (length x depth)
4/4 size:
124cm x 46cm (48.81" x 18.11")
3/4 size:
114cm x 43cm (44.88" x 16.92")